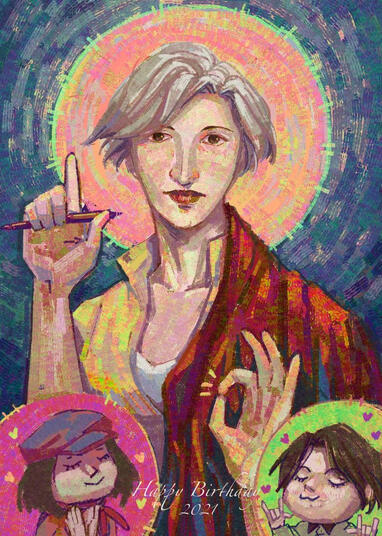 Nulla dies sine linea
---
❝Be proud of your mistakes. Well, proud may not be exactly the right word, but respect them, treasure them, be kind to them, learn from them. And, more than that, and more important than that, make them. Make mistakes. Make great mistakes, make wonderful mistakes, make glorious mistakes. Better to make a hundred mistakes than to stare at a blank piece of paper too scared to do anything wrong.❞

— Neil Gaiman
---
About
---
Hello! I'm Lillymon, also known as kourvo in some circles. I'm a 30+ very introverted self-taught digital artist from Afghanistan and a former front-end web developer.
I like art, music, manga, PC games, photography, books, fictional worlds and characters, languages, nature, cats, rain, technology, perfumes,... and a whole lot of other things.
---
Currently, art is my sole means of earning a livelihood so If you like what I do and wish to support me in some way please consider becoming my patron! For as low as $2 a month, you can have early access to all my art (both digital & traditional) in addition to monthly art request raffles! If you're feeling generous, you can also request an art commission! That would be very sweet!

Below is a list of all places you can find me. Feel free to look around my pages and feel free to get in touch if you've got any questions. My Twitter DMs and e-mail are the quickest way to get in touch.
---
---
---
Gallery
---
Sample works (2016 - 2019), for reference in case you're interested in commissioning me ❤
Tools: Paint tool SAI - Photoshop CC - WACOM Intuos Pro (medium)
---
Commission Info「 Patreon Only 」
---
| Type | No. of Characters | Dimensions | Price | Status | Slots available |
| --- | --- | --- | --- | --- | --- |
| Greyscale / Waist-up | 1 character | A5 (8″ x 5″) 300dpi | $15 | Open | 1 out of 5 |
I'm available for art commissions so please, let me draw for you! If you're interested, hop over to my Patreon after reading the information below and subscribe to your commission tier of choice (greyscale or colored).

I will draw:
► Your RPG characters (Wardens / custom Hawkes / Inquisitors / Dragonborns / ESO characters...etc).
► Your original characters.
► Pinups and mild NSFW.

I will not draw:
Perspective / full bodies / elaborate backgrounds / very young characters / dwarves / R18 / real people (e.g. your bf/gf).

Please provide me with references & details when you order.
I'll be needing the following info:
► Visual references i.e. screenshots, faceclaims, previous commissions, aesthetic boards,...etc.
► A brief description of your character's personality.
► Your character's physical features and any distinguishing marks (scars/piercings/tattoos/birthmarks/freckles,...)
► Other details: outfit suggestions, pose suggestions, is there anything specific you'd like me to pay attention to? age, expressions, ...etc

Please be concise keeping things short and sweet.

How long will it take?
Turnaround time can vary between 1 up to 2 weeks, so please be patient. In rare cases, if for any reason I had to take longer, I'll let you know!
---
If you have any further questions, just drop me a message via Twitter DMs or send me an e-mail! Thank you very much for your support and choosing to work with me! (⁄ ⁄•⁄ω⁄•⁄ ⁄) ♥